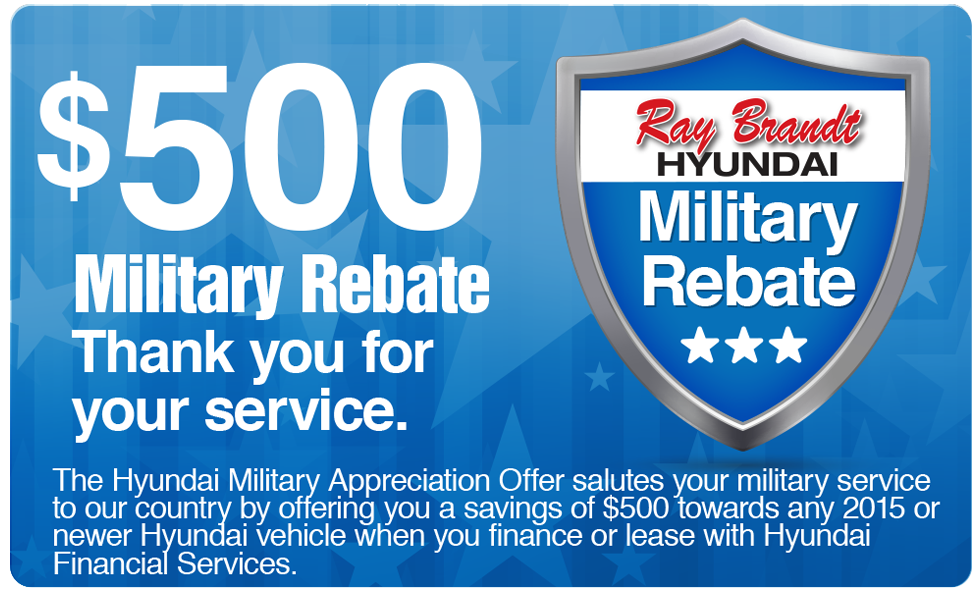 At Ray Brandt Hyundai in Harvey we recognize the sacrifice and dedication of our nation's Military personnel and that is why we provide special offers and discounts for all active duty, reservist/national guard, veteran and retired U.S. Military Personnel. You have sacrificed for this country and at Ray Brandt Hyundai we don't think you should have to sacrifice on your vehicle. That is why we offer quality vehicles at reasonable prices along with added Military Personnel incentives.
Why Choose Hyundai for Your Journey?
Hyundai provides quality, reliable transportation without breaking the budget. Not only will you be able to find the perfect car or SUV to fit your busy life, you will be able to save a lot of money without missing out on comfort and style when you choose a Hyundai from Ray Brandt Hyundai in Harvey. Hyundai doesn't only save you money when you buy it, with Hyundai's 10-year/100,000-Mile Powertrain Limited Warranty you will save money on service and repairs for year to come. You can rely on your Hyundai to keep up with you and get you where you need to be!
Military Discount Program Overview
Receive an additional $500 off eligible 2015, 2016 and 2017 model year new Hyundai vehicles.
Military Discount Program Details
Receive an additional $500 off eligible 2015, 2016 and 2017 model year new Hyundai vehicles distributed by Hyundai Motor America.
Customers (or spouse) must be Active Duty, Reservists/National Guard, Veteran, or on Retired status in the U.S. Military at the commencement of the program period.
Active, Veteran, or Retired U.S. Military for this program are defined as customers serving or having served in the United States Air Force, Army, Coast Guard, Marine Corps, Navy, National Guard, or Reserves.
Contact us for details on eligibility.
The offer is good from January 4, 2017 through January 2, 2018