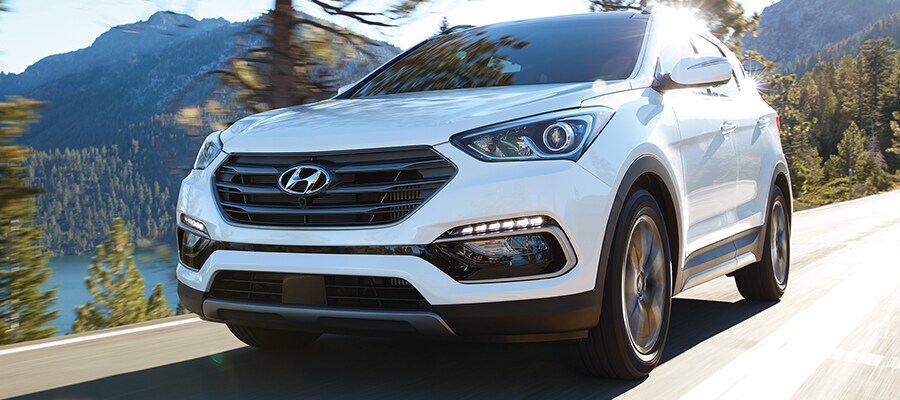 The Hyundai Santa Fe is Equipped to Get You Right Where You Want to Be
The Hyundai Santa Fe takes you to a place where superior design, unyielding performance and innovative features combine with a deep understanding of your adventurous and practical driving needs. The Hyundai Santa Fe truly stands out among today's mid-size SUVs with an irresistible exterior appearance that is both engaging and impressive. To complement its intelligent design is an uncompromising powertrain that adapts to your driving conditions, as well as your lifestyle. The Santa Fe features a technology called Drive Mode Select that tailors the engine, transmission and steering response to suit your preference. No matter the variable conditions outside, you'll always be surrounded in a deluxe atmosphere when inside. The Santa Fe's interior features premium materials, ambient lighting and an array of intuitive features that all contribute to creating the ultimate driving experience.
Advantages That Come with a 2018 Santa Fe
The Hyundai Santa Fe rolls into the 2018 model year mostly unchanged due to a variety of additions and enhancements for the previous model year. There are, however, a few changes worth noting on this year's Santa Fe crossover.
Trim levels on the 2018 Santa Fe have been paired down to only three offerings: SE, SE Ultimate and Limited Ultimate. Noticeably absent from the 2018 Santa lineup is the mid-level Limited trim. Don't worry, though, as the Santa Fe continues the trend of packing a ton of standard features into all trim levels of the vehicle.
Read more.
A Look into the Santa Fe's Past
Hyundai's first entrant for the thriving sport utility vehicle market, the Santa Fe, was introduced in 2001 specifically to appeal to the North American consumers. Configured for five-passenger capacity, the 2001 Hyundai Santa Fe was offered as a front-wheel drive or with a Fulltime 4WD system. Revised in reactions to consumer demands, the Hyundai Santa Fe underwent its first complete re-engineering for 2007, featuring an upscale appearance and enhanced powertrain. For 2013, its third generation Santa Fe utilized Hyundai's fluidic sculpture design language and a new frame that greatly reduced the overall weight of the crossover utility vehicle.
Why Choose Ray Brandt Hyundai?
Ray Brandt Hyundai is proud to be one of the highest rated Hyundai dealership's in Harvey, LA and proudly serves customers of the New Orleans, Kenner, Slidell, Mandeville and Hammond areas. We are committed to helping our customers find the perfect vehicle that satisfies their driving needs and preferences. We offer a wide selection of Hyundais for sale, including the 2017 Santa Fe, and hope to make the car buying process as quick and hassle free as possible for you.