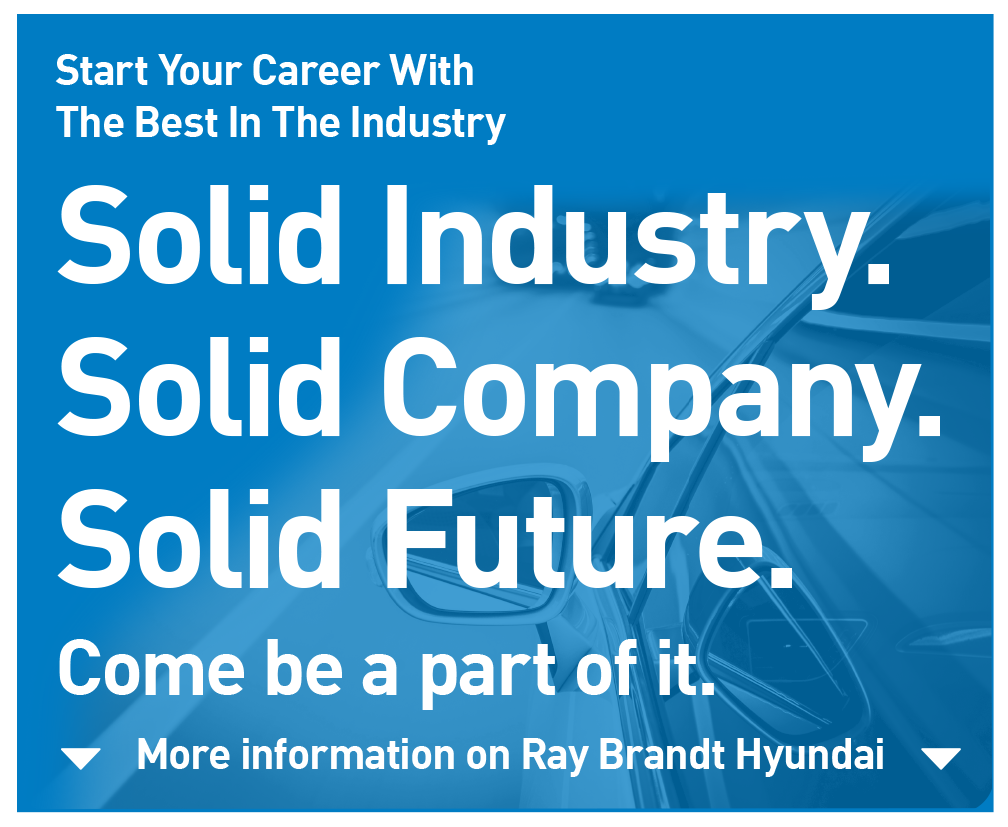 Join the Hyundai Team in New Orleans!
Ray Brandt Hyundai has numerous positions available for people in the New Orleans area looking to join a great team! Ray Brandt Hyundai is a part of the Ray Brandt Automotive Group that consists of many dealerships in Harvey that have a great group people that look forward to sharing their knowledge and experience to help anyone that is driven to succeed in the Automobile industry. Proven success for providing amazing customer service through every stage of the car buying and maintenance experience, Ray Brandt Automotive group is looks for more great team members to help serve the automotive needs of Harvey, New Orleans, Baton Rouge, Hammond and the Mississippi Gulf Coast!
Why Ray Brandt Hyundai New Orleans?
Ray Brandt Hyundai offers competitive compensation & Benefits
Hourly, Salary and Commission Positions Available in multiple Departments
Sales, Service, Parts, Finance and Clerical Positions available
Some Positions come with an Incentive Based Income and Bonus Plan
We provide initial Training and ongoing Coaching
No previous education or degree required for employment
The Ray Brandt Hyundai Team works together to ensure the success of every team member
We encourage the advancement and growth of all of our employees by promoting from within whenever possible
Perks of Working in the Automotive Industry?
The Automotive industry has seen a spike in sales over the past decade
Automotive industry growth is projected to continue to follow an upward growth trend
Growth Forecasts from the National Automobile Dealers Association (NADA) predict that the economy will continue to stabilize and improve. This will help new-vehicle sales rise to numbers higher than they have been since 2005
If you are interested in becoming a part of the Ray Brandt Hyundai team, we encourage you to submit your resume and contact information, as we are always looking for great team players! The team at Ray Brandt Hyundai is looking forward to meeting you and discussing your future with Ray Brandt Hyundai! Visit us Ray Brandt Hyundai in Harvey today or give us a call at 504-517-9531 for more information on positions that are currently available.